How is the use of CRM programs received by the customer?
The use of CRM programs and the focus on customer relationship management in the company is by no means received negatively by the customer.
On the contrary: CRM systems turn customers into winners.
Thanks to a good CRM program, customers don't have to start every conversation at Adam and Eve, - because their conversation partner knows the history. Since all important information is stored in a central location, annoying waiting loops are a thing of the past. And that saves time and money for everyone involved.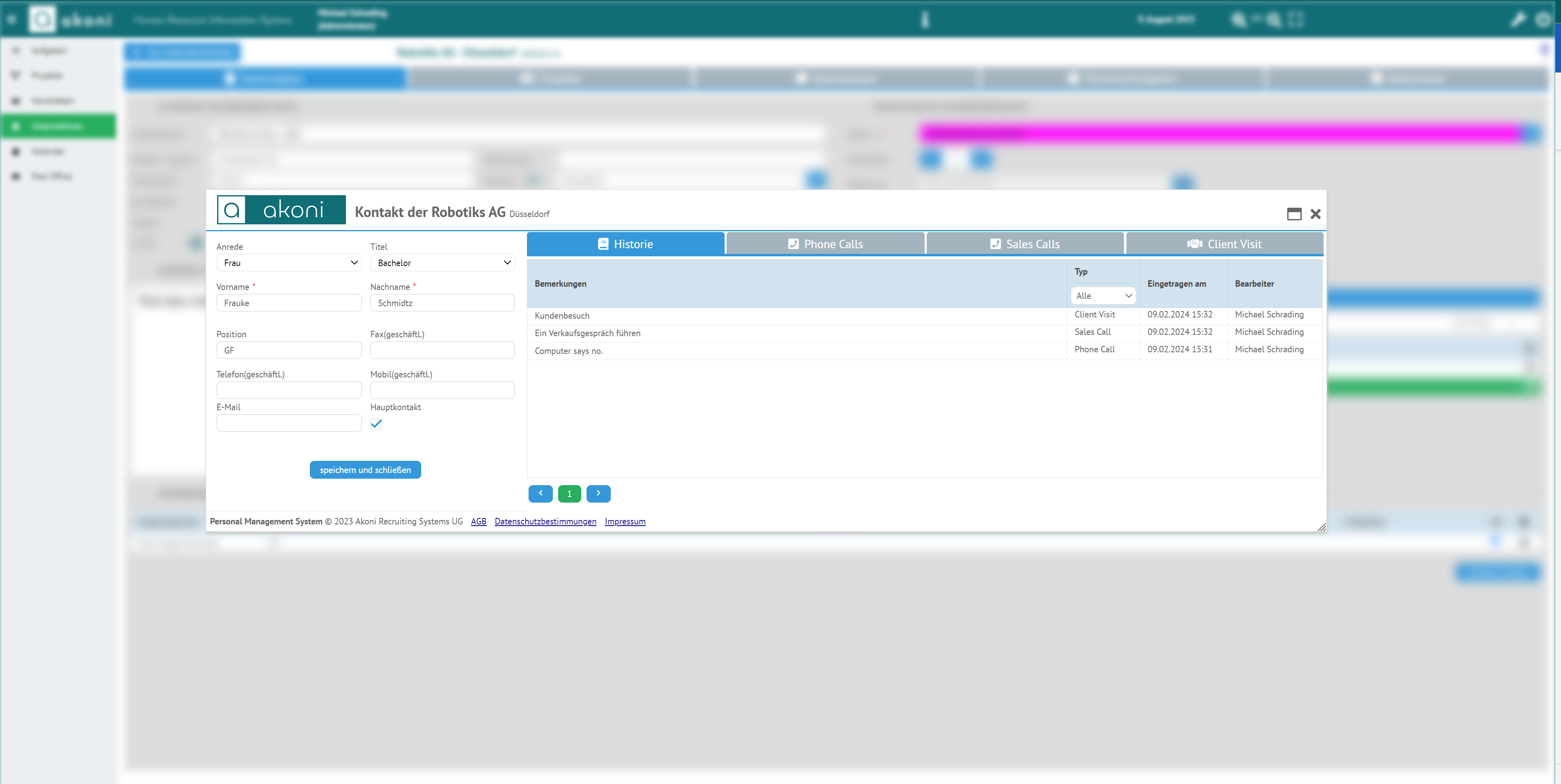 Conversation protocols possible down to the last detail
Most CRM programs require add-on applications to complement the recruiting processes.
In the akoni Recruiting System you have combined all the necessary processes in one application. CRM programs are fast when the individual modules complement each other. For example, if information that has already been entered into the CRM system is always available. However, many CRM systems cannot manage without additional software, which makes working with them cumbersome and time-consuming.
With the CRM system from akoni you are one step ahead of many CRM programs in recruitment. Fast, efficient and precisely customizable for your needs. You will never want to miss this advantage over many other CRM programs again. After just a few clicks, you can send the desired applicant profile to your customer. Your customer receives your candidate suggestions while you are still on the phone and can respond immediately.
CRM software stands for customer relationship management software. These are cloud-based platforms that help companies manage their relationships with current and potential customers. CRM programs provide a central location where customer data, interactions and notes can be stored and accessed by different people in the company.
Good CRM software replaces spreadsheets, databases and other applications used to track customer data. It allows you to track communications with current and potential customers, including forms, calls, meetings, emails and text messages. A CRM provides a unified view of each customer that is visible to all sales, customer service and marketing teams. It also helps anticipate customer needs to plan future marketing opportunities. In addition, a CRM tracks sales activities, metrics and project management.
Most CRM software providers offer functions such as lead management, analysis and communication logging. Integrating a CRM system into a company, regardless of its size, can organize and network operations.
However, there are also challenges when implementing CRM software. For example, it requires:
to set priorities,

define a budget and

plan employee training courses.
Nevertheless, investing in a CRM system is generally worthwhile.
The Akoni Recruiting System cares about your success
A CRM program, like the Akoni Recruiting System, is a CRM software solution that won't let you down. Whether on the road or in the office, you can reliably and quickly find suitable employees for your customers from thousands of candidates and automatically send their profiles to the customer.
Why are CRM programs so important today
CRM programs are tools to manage customer and candidate data in one place. They help to organize information about people. Modern systems cover the entire process from customer inquiries to partners and employees to candidates and the proposed profiles at the customer.
Data, information and knowledge are of great importance in the 21st century. It is not only about collecting information about customers and candidates, but above all about converting this information into knowledge, which offers a decisive advantage. Therefore, recruiters should use modern CRM programs that can not only store information, but also generate knowledge.
A good example of this is a comprehensive customer profile. The recognition and use of customer wishes, demand requirements and future employee requirements, which are captured by CRM programs, is crucial and leads to sustainable sales. The main task of these systems is to support customer relationship management with the help of IT technologies.
CRM programs store important information about customer relationships, such as company addresses and contact persons, as well as contact data, sales opportunities (leads), candidate profiles, requirements and services. The central database allows easy access to customer contacts, activities, customer appointments and contact histories, independent of different company divisions.
Customer relationship management systems are especially important for highly customer-focused recruiting agencies. The importance of and demand for CRM programs has risen sharply in recent years as more and more headhunters and independent recruiters recognize the potential of these solutions. Modern CRM approaches also integrate information from social networks and customers' online behavior.
Efficient HR Management Software:
The key component for a personal customer relationship.
Today, customer relationships are maintained through the use of sophisticated HR software. This provides the basis for daily interactions with customers and offers significant advantages especially to the areas of sales, marketing and customer service.
Why? Because it is essential for recruiters and headhunters to always have access to up-to-date customer data such as customer notes, call histories and agreements. This information provides insight into customer preferences, which in turn enables targeted approaches. Only in this way can the recruiting team address customers at the right time and with relevant topics.
At a time when digitalization is becoming increasingly important, efficient CRM programs should be the focus of attention, especially for small and medium-sized recruiters and headhunters. Personal contact with candidates is becoming increasingly relevant! It has been proven that customers who are approached personally and specifically are more satisfied. They remain loyal to the personnel service provider in the long term.